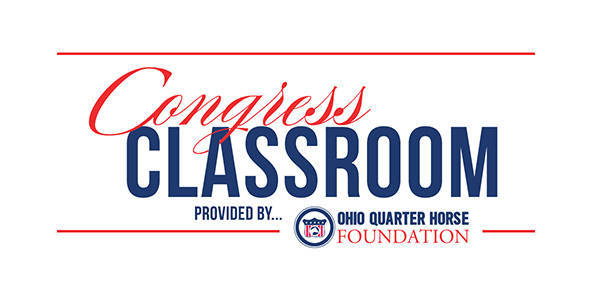 In alignment with our mission, The Ohio Quarter Horse Foundation is proud to offer "The Congress Classroom" to all exhibitors again this year at the 2018 All American Quarter Horse Congress! Thanks to our generous donors, the Classroom will be equipped with WiFi, printers, random giveaways, snacks, and even tutors at no cost to you!
The Classroom will be open 8:00 am – 10:00 pm Oct. 4th-25th in the Congress Hall Annex the side closest to the Gilligan (West side) and on the second floor. Above Cashmans.
Please text Shari Tordoff @ 614-571-3872 if you have special tutoring requests, questions or want to volunteer as a tutor.
Follow us on Facebook for regular updates on hours, tutors and more.
#CongressClassroom
Every person can make a difference. Every contribution matters.

Cathy Martz
President of the Ohio Quarter Horse Foundation
614.855.3092
[email protected]
The Ohio Quarter Horse Association
6325 Quarter Horse Drive, Columbus, OH 43229
614.505.7200
President: Cathy Martz 614.855.3092
Vice President: Kelli Diaz 740.404.7930
Secretary: Carol Salome 740.281.6042
Treasurer: Shari Tordoff 614.571.3872
Directors: Kara Lewis | Sara Laughlin | Ron Kendle